Professional Services

Lonnie Performance Automotive is a service based automotive entity.
We pride ourselves in providing personal customer service that is unmatched in the industry.
Technical Service:
Technical advice is provided to all customers. We have installed every component that we sell
so knowledgable support is only a phone call away.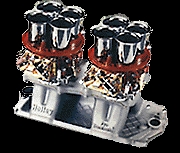 Sales:
We are not a parts distribution warehouse, but a builder of automotive performance engines
& specialized modifications for street & racing applications. We only sell the components that we use.
Making the sell comes second to making it work.
Professional Computer Simulation:
Engine Analyzer Pro & Quarter Jr. is available to analyze your combination.
Simulate HP & 1/4mi performance improvements.
Predict your improvements before you buy.
Computerized parts integration ensures compatibilty of all parts & modifications to best suit your needs.
Minimize the purchase of equipment that is not compatible with existing or future intended modifications.
Installation:
Installation is available for all parts sold, with reasonable prices.
Custom Packages:
Specially engineered, custom designed performance packages are available for the best performance per dollar.
Packages are available in various stages to suit your budget.
Proper selection ensures all components are capable of supporting the next desired performance level.
Due to the nature of computer controls & emissions requirements, special consideration must be taken
in the selection of components. We specializing in computer controlled automotive performance applications.
Rely on proven combinations instead of trial and error.
Engines:
Complete Engines Engine Kits
Long Blocks
Short Blocks
Stroker Kits

Fuel Systems:
Fuel Pumps
Installation Kits
Injectors

Induction
Cylinder Heads
Camshafts
Heads/Cam Packages
Superchargers

Installation:
Partial or Turn-key
Engines/Components
Frame Connectors
Fuel Systems
Superchargers

Tuning:
Aftermarket ECM Tuning
- all makes
Factory Computer Tunes
- available for GM Cars
Custom applications
Blower Programming
Heads/Cam Tuning
Injector Correction